Keep your ears open! Look after Soundspotters sheet aluminium sign on spotted places.
*
Soundspots:
# 9 Dals Långed
***
# 8 Akvarellmuseet in Skärmhamn, on the .
A Noisy clanking fan outside the restaurant called Water.
***
# 7 Mannheimers väg in Gothenburg.
A small path tunnel with some kind of condensation.
***
# 6 The Art school in Gerlesborg.
Silence mixed with bird songs, the ocean, heavy traffic and wind.
***
# 5 The Pier in Vänersborg.
A mixture of sea and city traffic and urban sounds trafikljud.
***
# 2-4 Arsenalsgatan, Kungshöjd Göteborg.
Stetoscopic (our own term) sound sigth over a geographically big part in Gothenburg.
***
# 1 Jazz Club Nefertiti, Hvitfeldtplatsen 6 Gothenburg.
A ventilator system hole in the wall unveil whats happening inside,
but with some kind of filter.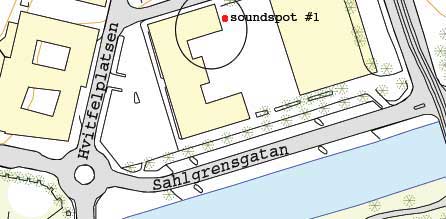 ***
copyright © chinaski nymark/soundspotters 2005-2014